Today, for my Holiday Shopping Guide, I would like to introduce you to Kassi. She sells Scentsy (which I am ADDICTED too!), she is a super awesomely crafty blogger AND she's is a really great friend! HERESSSS KASSI! 🙂
Hello lovelies!
My name is Kassi and I have been a Scentsy Independent Consultant since May 2008!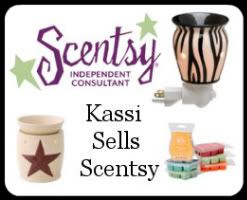 First, real quick thank you to Ami for inviting me to be a party of her Holiday gift giving guide!!!
I started selling Scentsy while in college to make some extra money. Since then, it has truly been a huge blessing for me and for my family!!! I have a team of 10 AWESOME ladies that sell Scentsy in my downline…
And I get to PARTY for a living. 🙂
*Learn more about becoming a Scentsy Consultant here.
So what is Scentsy!?!
Simply put, Scentsy is a wickless candle system, a safe alternative to your traditional wicked, flame candles. Each Scentsy warmer is powered by electricity, using a light bulb to warm the amazingly scented Scentsy wax, filling your home with the delicious smells of vanilla, cinnamon, lavender… Your choice!
How exactly does Scentsy work?
There are three sizes of Scentsy Warmers to choose from.
Full-Size, Mid-Size and Plug Ins.
We also offer Scent Circles, Room Sprays, Travel Tins, the choices and combinations for your Holiday gift giving are endless!
From decorating for the Holidays…
To brightening up a little ones day!
Scentsy makes a perfect gift for everyone! Including yourself!!!
We even offer Scentsy as a fine fragrance perfume!!(Enchanted mist is MY favorite!)
To browse our vast collection of Scentsy products, please visit my website, here.
You can also learn about specials, new products, etc at my Facebook page here.
AND of course, if you have any questions or would like help with your order,
please contact me here.
*Place an order of $150 or more and receive FREE shipping, PLUS you'll earn FREE Scentsy Products as a "Party Hostess". Just ask me how! 😉
We ship ANYWHERE in the U.S. and Canada!
We also recently expanded to the United Kingdom, Ireland, and Germany!!
So… There you have it!!! I would LOVE to be YOUR Scentsy Consultant! 🙂If you're interested in a Fall/Winter Catalog, let me know and I'll get one sent to you ASAP!
By the way, I blog over at Truly Lovely if you'd like to stop by and say hi sometime!!!

Thanks so much Kassi!!
PLEASE DO, stop by and give Kassi a quick hello!
BLOGFACEBOOK
TWITTERPINTEREST
Thanks for stopping by!



Like what you see? Follow me and keep up to date with all the happenings here at AliLilly!!!Enter your email address:Delivered by FeedBurner