Today I just had to share with y'all my patriotic party decor!!  First let me just say…. I LOVE YOU DOLLAR TREE!!  Seriously, I do.  You can always find the cutest stuff for holiday or seasonal decor.  And yes, it's cheap and maybe just maybe those plates there are a bit flimsy but… it's just for a holiday, maybe up for a few weeks and it wont break the bank!!
So let me show y'all what I got…
Cute right?  Here let me give you a little summary.
Dollar Tree purchases:
Streamers 3 for $3
4th Banner $1
Flag plates and napkins $2
Patriotic lantern $1
Wood painted USA sign $1
Ribbon $1
Cupcake wrappers with flags $1
Red, white and blue sprinkles $1
Star streamers 2 for $2
Paper wheels 2 in a pkg $1
Red and Blue plastic ware $1
Blue flowers $1
From Walmart:
Wood plaque $1
I got the three patriotic pails at Walmart on clearance for $.20 each!! I had the patriotic paper already for the pinwheels.
The red and white picture frames I got after Valentine's day at Target on clearance for $2.50 each.  The red platter and red bowl I found at Walmart after Christmas on clearance for $.50 each.  The blue bowl is a part of a set from Bed Bath and Beyond. I think it was about $10??  The white painted candle stand is old, the cute chubby red bird David bought me.  I made the star garland from paint chip samples, you can click here for that tutorial.  I already had the paper shred.  OH and that white milk jug turned vase is exactly that.  Well, it was actually Half & Half.  I just tied a ribbon around it and turned it into a simple repurposed decor!
So, the tally for this awesome and cute decor…..
Under $20!  Not bad huh??
 What do y'all think?  Pretty cute and cheap eh?  🙂
I followed a great tutorial I found on Truly Lovely for this wood sign.
Now, did you guess that this minus the 4th banner was all my set up for Memorial Day??  If you follow me on Facebook or Instagram then you probably already knew!
I made some Jello Poke Cupcakes and Parfaits.  Click here for that recipe!!
I would LOVE to see your 4th of July decor ideas!
Like what you see? Keep up to date with everything happening here at AliLily by subscribing below.
Subscribe to AliLilly by Email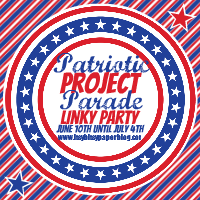 linking up here: