This is a Sponsored post written by me on behalf of éclos Skin Care for SocialSpark. All opinions are 100% mine.
I've always been pretty lucky when it comes to my complexion.  I've had a pimple or four here and there but nothing that ever had me studying the skin care aisle at the store for an hour.  In fact I really only washed my face in the shower with shower gel!  While I was pregnant with my precious Alie Marie my face became very dry.  Like, painfully dry and very sensitive too.  After I gave birth to her it actually got worse.  In the past 4 years (it was her birthday last Monday!!) I have tried so many face washes, lotions, creams, serums, homemade treatments, food treatments, bizarre treatments. Everything from stuff I found at a dollar store to stuff so expensive I felt terrible guilty purchasing. Nothing has helped. NOTHING!  My face gets so dry it feels like sandpaper.  I even have these tiny dry white bumps that aren't noticeable until you switch your make up mirror to the 10x zoom side. They are what makes my face feel so rough.  Nothing has made them go away.  Maybe for an hour or two but never just gone. 
Since I am always on the hunt for skin care I was excited to try the éclos Skin Care
 kit.  I'm not too worried about the wrinkles and the ageing but I know if I don't get this super crazy dryness in check the wrinkles are sure to follow.  I read up about the products and thought they sounded great.  There wasn't a lot of info on helping dry skin.  Which is why I was incredibly surprised at what I discovered the VERY FIRST NIGHT of using my kit.  Normally, the rough dry skin comes back with in hours.  That night my skin was still smooth.  It felt soft and refreshed even hours after I used the products.
First, let me tell y'all about what I was sent.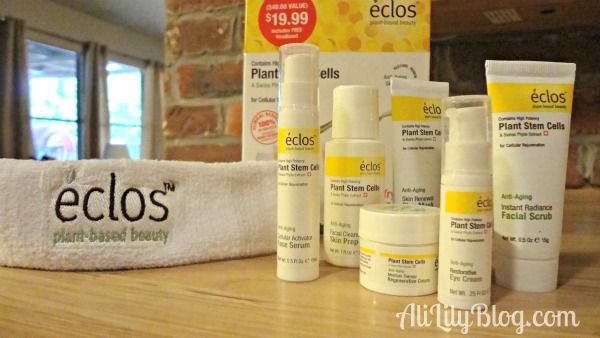 • Facial Cleanser Skin Prep
• Instant Radiance Facial Scrub
• Moisture Therapy Regenerative Cream
• Restorative Eye Cream
• Cellular Activator Face Serum
• Skin Renewal Clay Mask
• éclos Terry Cloth Head Band
The facial skin prep felt wonderful on my skin, it extends cell longevity, purifies pores and primes your skin for treatment. You use the prep twice a day, morning and before bed. After the skin prep I used the instance radiance facial scrub.  Because of  my dry rough skin I have used a lot of exfoliating scrubs. Some are nice, some sting, some stink, some burn.  This one was really nice.  Has a nice sent and the exfoliating beads weren't too harsh. The scrub is used once a day, every other day. It not only gives you a microdermabrasion treatment removing dull and dry skin cells but it also activates cell renewal and evens out tone and texture.  I definitely see a difference with this one. Then there is the skin renewal clay mask.  I LOVE this one. My skin feels so soft, smooth, refreshed and nourished after using this.  You use this just twice a week and it absorbs dirt and impurities, tightens and reduces pores, and restores a more youthful texture. The cellular activator face serum is used twice a day, morning and before bed after the skin prep and/or facial scrub depending on what day it is.  The serum regenerates skin cells, rehabilitates aging skin cells and resists further damage.  After you have used the cellular activator serum you  use the moisture therapy regenerative cream.  This stuff feels like heaven on my dry face.  And the rough spots have been gone since the FIRST day of use!  You use this twice a day, morning and before bed over the serum.  The regenerative cream awakens cell renewal, brightens dull skin and reduces lines and wrinkles.  And last you use the restorative eye cream. You gently pat the cream around your eyes to reduce the skins of aging, firm delicate skin and reduce fine lines.  I've had some issues lately with dark circles under my eyes and this cream has really helped to reduce the darkness.
Here is a before picture, and I swear y'all these are untouched, NO MAKE UP (YIKES am I seriously posting these on the internet!!!) pictures!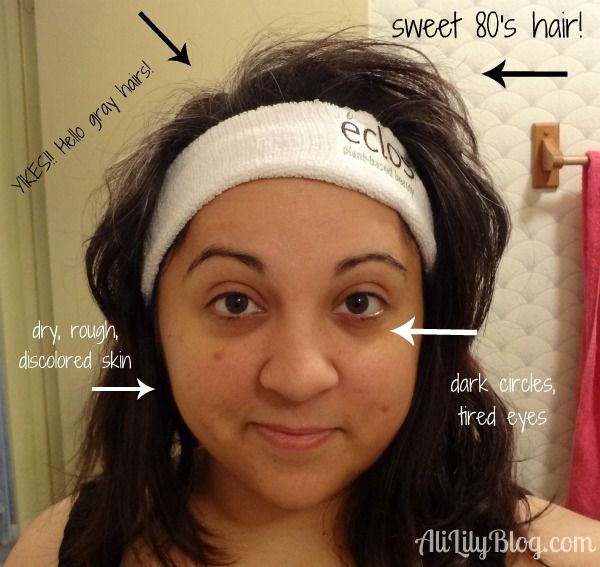 and two weeks later!!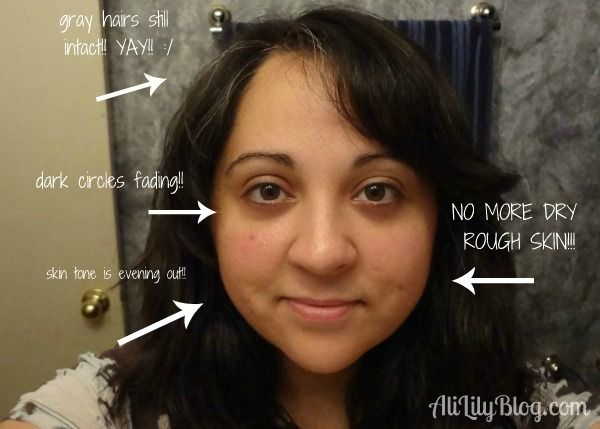 I see a big difference in my skin tone. It's even and bright. But the texture and feel of my skin is the hugest difference for me. The roughness is gone, it's soft, smooth and feels nourished.
éclos Skin Care is different from other anti aging skin care products as it's uses actual plant stem cells from a rare swiss apple that actually shows the ability to stimulate skin stem cells.  It gets your skin to act like it did when you were younger! Or in my case, pre-precious daughter pregnancy baby mama skin! 
I'm very happy with this kit and have already found the products to purchase as soon as my kit runs out.
This all sounds pretty great huh?? Well……I have a kit for YOU too!!  Yep, they gave me an extra kit to give to one of my awesome readers.  I'm so excited for one of y'all to try this kit.  It's fantastic.  All y'all have to do is use the Rafflecopter below to enter.  It's mandatory to leave a comment on this post telling me which product you are most excited to try.