I made these treats for Memorial Day and thought it would be a good idea to share them with y'all before the 4th of July. This is one easy delicious recipe that actually turned into TWO desserts. PERFECT right? And even better, the little ones LOVE these!!
I made Jello Poke Cupcakes, following the recipe at Kraft Foods.
Here is what you need:
1 package of white cake mix
1 package strawberry flavored gelatin (or a red jello)
1 package blue raspberry gelatin (or a blue jello)
2 cups boiling hot water
1 tube cool whip
red, white and blue sprinkles
First you make the cupcakes according to the package directions.  Once they are done let the cupcakes cool for a few minutes.  While they are cooling boil the water.  Poke cupcakes with a fork several times.  Add one cup of boiled water to each package of jello and stir until dissolved.  Then spoon jello mixture over cupcakes.  I did half blue and half red. Cool in a refrigerator for at least 30 minutes.
Now, you're going to notice you have left over jello!!  I pour the left over jello (not mixing the colors) into a measuring cup to see how much I had left.  I then added an equal measure of cold water for each jello mixture I had left over.  Make sure you stir the jello carefully for one minute.  I added one color of jello into my cups and placed them in the freezer while I added the cold water to the second color and stirred for one minute.  I pulled out the cups and slowly added the second color, laying them.  I would say the first color spent maybe 2 to 3 minutes in the freezer.  Then I let them cool in the fridge for a few hours.
Once the jello was set I then covered the cupcakes and jello cups with cool whip and decorated with sprinkles.
EASY right??
What fun patriotic desserts do you make for the holidays??
Be sure to stay tuned in (RRS, Email, Bloglovin, Hello Cotton, Linky Followers or Facebook) I'm working on a HUGE list of fabulous patriotic desserts I've been collecting online!!
Like what you see? Keep up to date with everything happening here at AliLily by subscribing below.
Subscribe to AliLilly by Email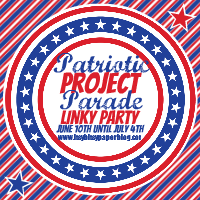 linking up here: