Hey there!  I am Nichole… the voice behind
Yeung Mother Hubbard
.  My blog is supposed to be a craft blog, but I can't seem to find the time to actually craft… so you will find a lot of posts about my life, my dogs, food and nail polish… that is sort of a craft, right?!  Yeung is my maiden name and Hubbard is my married name… so I really lucked out when I was trying to choose a blog name, it was a no brainer, really.  So there you have it… me in a nutshell.
When Ami asked if I wanted to post something for her Christmas in July series I got very excited.  
Christmas is one of my favorite holidays and I love Christmas decor!  
And… like many of you I have lots of projects on my "to do" list.  Last year I went and purchased all the supplies for a Christmas Card Holder… and guess what?  Yep, life got in the way and I moved those supplies around the house for 6 months… until now.  
I love getting Christmas cards in the mail, but I hate not knowing what to do with them once I open them. Usually I try to display them in some messy bunch in the living room… but it turns out as a pile of cards once the dogs knock them over.  I loved the idea of the wreath, but it is just not cute.  So with that in mind and my love for wooden signs, I came up with this.
I didn't have any actual Christmas cards, its July remember?!
Want to know how to make one for your house?  You are in luck because I am about to show you!
You will need:
a board (I used a pre-cut from Lowes, I think it was 6 x24)
paints (I used some left over paint in cream, green, and red)
paint brushes
stencil (I used my Cameo to design and cut my vinyl stencil)
mini clothes pins
2-3 yards of ribbon
a staple gun
I used my cream paint and painted the front and sides the board, I wanted it a little antique looking so once I covered the board I wiped off the excess with a dry paper towel.
Once the paint was dry I lined up my vinyl so that I could paint the board green.
I painted lightly over the vinyl letters and waited about 5 minutes and then carefully peeled the decals up.  Be careful, the paint is a little wet still.
This is what your board should look like once the decals are removed.
Once everything is dry I used another vinyl decal (opposite of the first)… this time we are painting in the stencil like a normal stencil.  I made a mistake here and tried to paint red directly on the board… but it was too transparent and you could see where the green and cream underneath.  So I ended up painting the cream here and once everything was covered I painted it red again.  Once the paint is almost dry, carefully peel back the vinyl.
You should get something like this when the paint is all dry.
Determine where you want your ribbon and how long you want them.  I made mine approximately 20″, but if you receive a lot of cards, you may want to make your ribbon longer.  To attach the ribbon I used a staple gun.  I stapled the ribbon to the back so that it was folded over to support the weight of the cards.  For the top ribbon, I angled the staple so that the ribbon would lay correctly when it was hanging.
Here is a picture of the back of my board.  This is how your ribbon should look.
I painted my mini clothes pins green and cream.  I diluted the paint with water to match the antique look of the sign.
And then I painted some red stripes on them.  (I also did some polka dots and candy cane stripes)
One thing off my "to do" list and its only July!  Just think of all the things I can get dome before December!
Thanks for hanging out with me today, I think I might just leave this up until Christmas.  Do you think that would be a problem?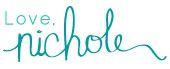 Thanks so much, Nichole for sharing this great tutorial with my readers!
Make sure you subscribe (RRS, Email, Bloglovin, Hello Cotton, Linky Followers or Facebook)to AliLily, you don't wanna miss all the amazing Christmas tutorials, crafts and gift ideas to come this month!!
Like what you see? Keep up to date with everything happening here at AliLily by subscribing below.
Subscribe to AliLilly by Email

linking up here: