This is a Sponsored post written by me on behalf of MiO Energy for SocialSpark. All opinions are 100% mine.
I just found a fun way to show off my fun summer pictures. The MiO cover photo generator tool lets you add your summer pics to one of their fun themed cover photos. Here is the one I made. I used my pics of Alice at the beach.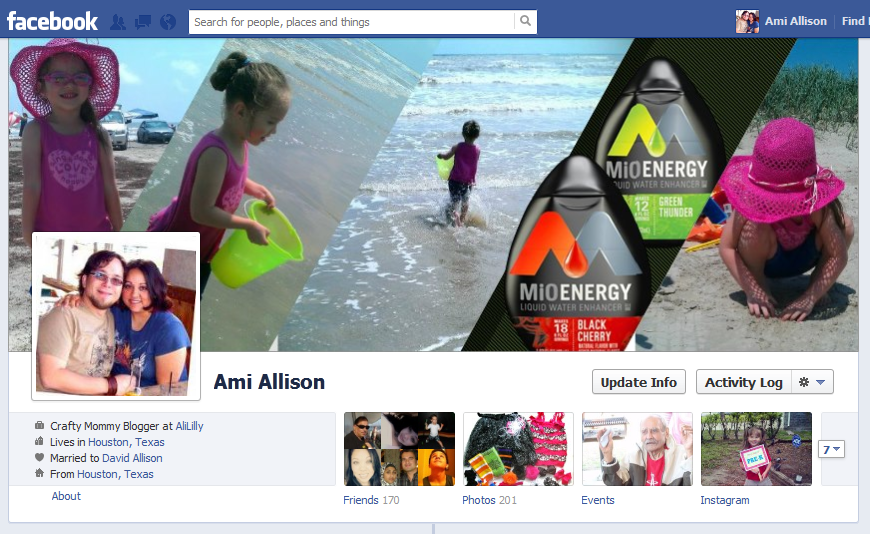 Would you like to make one for yourself? Click the MiO cover photo link then…
From the MiO energy custom design tool click "add photo" and choose a photo from your Facebook albums.
Use the "Scale and Rotate" sliders to position and size your image until you're happy.
Don't like it, you can start over.
Once you are happy with your image click "Download image" to save your new MiO Energy cover to your computer.
Finally upload to Facebook and enjoy.
Every mommy knows you need ALL the extra energy you can find when you're chasing after your kids. This summer has been so much fun for us. At times I needed that extra boost the MiO gives you. My favorite is the Black Cherry.
There are 18, 8 ounce glasses of energy in each little, easily portable bottle of MiO. No artificial flavors, calories or sugar and it's packed with B vitamins, too!
Traveling, a day at the beach, heading to the Zoo, it's so easy to pack a bottle of MiO and just mix a few drops with a bottled water and you have burst of energy to get you through your day.
Have you tried MiO energy? Have you tried the other delicious MiO flavors? I LOVE the Berry Pomegranate MiO. What fun summer photos would you use with the fun MiO Facebook cover photo?