This is a Sponsored post written by me on behalf of P.F. Changs for SocialSpark. All opinions are 100% mine.
As I sit here and write to you, I can tell you how much I truly need a bit of a spoiling. I have ventured out into the shopping arena (yes…lots like Thunder Dome! You'd think it was Black Friday morning!) Just for simple gifts and items for a quick dinner, after a full day of work! A trip that usually takes half an hour, that took a hour and a half! Now I am here wondering why have I settled for this cup of hot tea and these chocolate and mint cookies, when I know there is a P.F. Chang's restaurant within driving distance. I believe I've sold myself short! Did you know P.F. Chang's everywhere are offering new Holiday menu items that turn my evening's spoils into shame?
P.F. Chang's is the perfect place to check the Holiday hustle and bustle at the door, and relax while being surrounded by a unique, modern environment combining influences of Asian and American cultures evident from the décor through the menu. Much like the way I imagine how to spoil my family or how I would want to be spoiled, P.F. Chang's offers a delicious array of hand-crafted dishes, desserts and cocktails. P.F. Chang's Holiday offerings are devine!
My personal favorite is their cleverly handmade SWEET VANILLA CREAM WONTONS! Yes…handmade, warm and crispy wontons filled with delicious vanilla cream cheese (mmmm), dusted with powdered sugar (ohh!), served with vanilla and raspberry sauces and fresh mint (*I fall to the floor*).
SWEET VANILLA CREAM WONTONS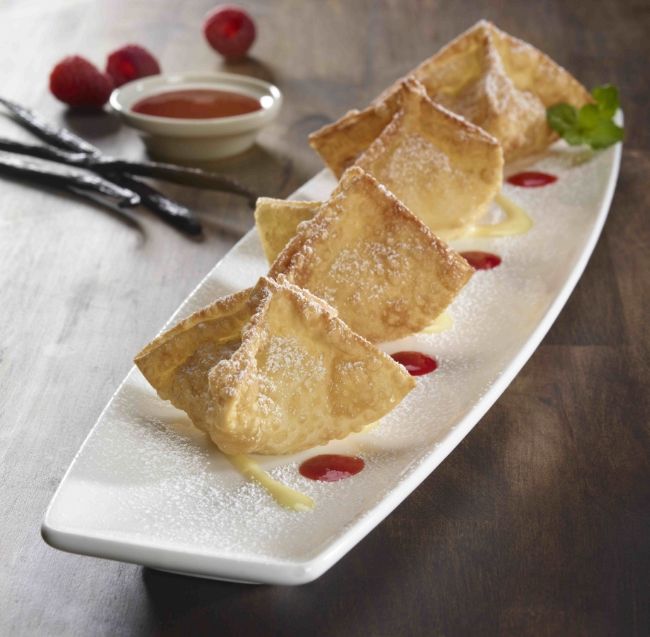 I love the marriage of pairing my SWEET VANILLA CREAM WONTONS with a PEPPERMINT MOCHA CAPPUCCINO! What a KISS!!! My PEPPERMINT MOCHA CAPPUCCINO is a Crave Mint Chocolate Liqueur and vodka added to a classic cappuccino, finished with crushed peppermint candy.
VANILLA BEAN BOURBON MILKSHAKE & PEPPERMINT MOCHA CAPPUCCINO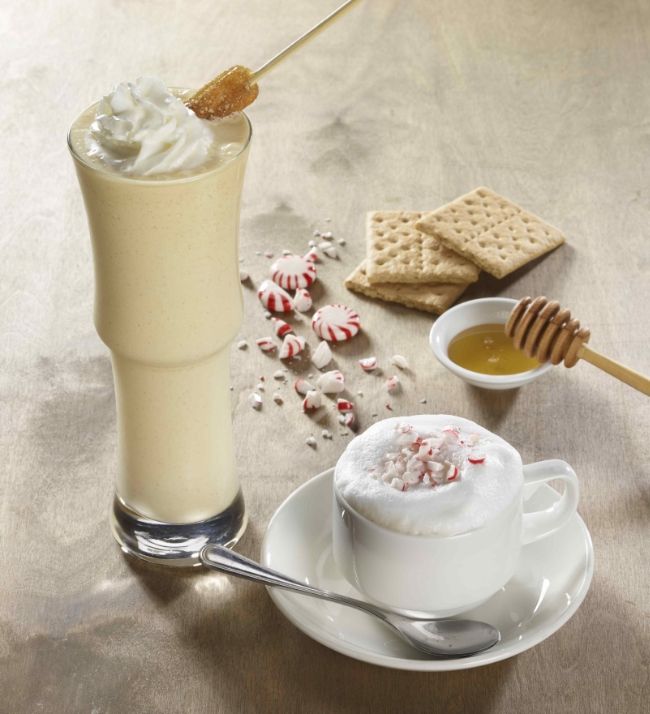 My hubby's favorite is what HE calls his Dynamic Duo, which features CHOCOLATE RASPBERRY WONTONS paired with their VANILLA BEAN BOURBON MILKSHAKE!
P.F. Chang's CHOCOLATE RASPBERRY WONTONS are also handmade crispy wontons, but with a creamy chocolate-raspberry filling, dusted with powdered sugar, served with chocolate and raspberry sauces, fresh raspberries and mint. (I am laughing now because my husband reminds me of a shark when he eats these, because his eyes roll back while he's "feeding" lol!)
CHOCOLATE RASPBERRY WONTONS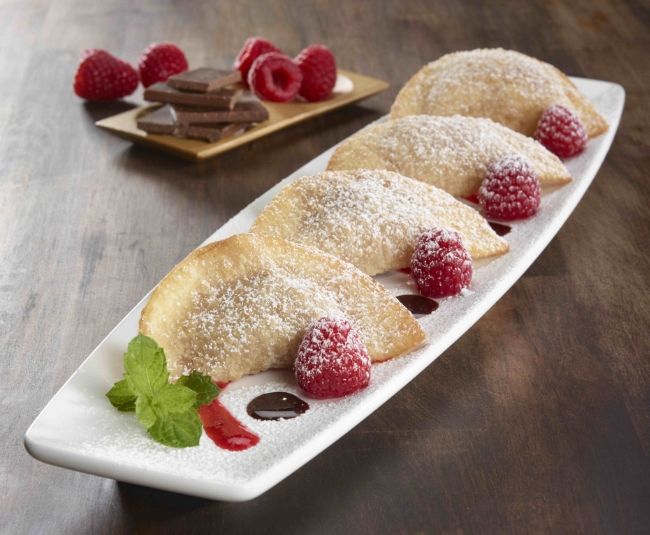 The VANILLA BEAN BOURBON MILKSHAKE features Woodford bourbon blended with vanilla bean ice cream, graham crackers and honey, served with a honey graham cracker pop!
If you need a great escape from the traffic jammed malls and shopping strips this Holiday, I'd encourage you to visit P.F. Chang's today or this evening and treat yourself to their new Holiday menu offerings.
Follow P.F. Chang's on Pinterest
Let me ask you, if you were in my place at a P.F. Chang's dining table, which of the Holiday menu items would you choose?